To be an industry leader, an attractive employer; and a highly efficient manufacturing organization.
Polymers Industries Limited's mission is to be a nationally recognized business that provides quality goods and services to its customers in every effective way possible, and also to contribute our quota towards the development of the Plastic Industry in the country and beyond; by way of providing excellent and quality services, working within set time frame and value for money as well as providing safety for our valued staff.
Our Core Values
Core Values
People
We are dedicated to providing our employees with opportunities to develop their various skills and abilities.
Customer Focus
Provide exceptional services to our customers by listening to their needs and wants, and meeting their expectation
Integrity
We believe that being honest and trustworthy is key to the operations in our organization.
The day-to-day management of the our business is taken care of by our Management Team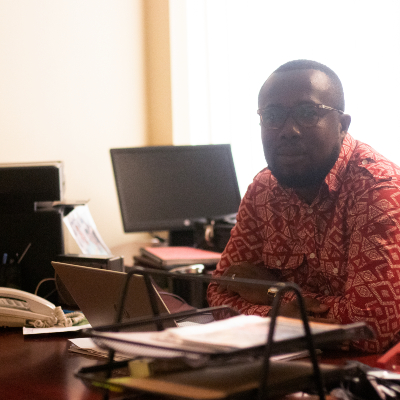 About Augustine
Augustine Acheampong is the Head of Polymers Industries Limited. He holds an MSc in Accounting and Finance from the University of Cape coast and a BSc in Electrical and Electronic Engineering from the University of Mines and Technology, Tarkwa.
He started his career as an Electrical and Automation Engineer with Guinness Ghana Breweries Limited and rose through the ranks to become the Continuous Improvement Manager. He later moved to join Bodukwan Multifruit Processing Company as the Head of Production and Engineering.
He Joined Polymers Industries Limited in 2021 as Head of the Company. Augustine has experience in process improvement and production management
About Fred
Frederick Mensah holds BSc in Accounting and Finance from University of Professional Studies and part two of ACCA.
He joined Palmers Green International Limited in 2009 as an Assistant Accountant. He was later transferred to Polymers Industries Ltd (a subsidiary of Palmers Green International Holdings Limited) in 2017 as Assistant Manager-Accounts.
He has experience in product costing, preparation of annual budget, preparation of monthly and annual accounts, stock management etc.
Jones Asamoah Asiamah
Assistant Manager – HRS Marketing
About Jones
Jones Holds a Certificate of Performance Management System from the Consulting In Technology and Management (CITAM) Accra. He Joined Polymers Industries limited in 1994 as a machine operator and mechanic. He was promoted to a supervisor in charge of the factory floor.
In 2016 he was promoted to Assistant Manager HR/Marketing due to his hard work, dedication and passion. He is currently pursuing BSc Management with Computer Programming at Regent University.
Provide exceptional services to our customers by listening to their needs and wants, and meeting their expectation Integrity
Agricultural Polythene
Industrial Polythene
Domestic & Commercial
Location: Odorkor, Behind Gloryland hotel.
Email: info@polymersindustries.com
Phone: +233 0302 312585, 300613
Mobile: +233 0244 250800 / 0244 309281
Copyright © 2023 – Polymers Industries Limited – All Rights Reserved
Powered by Websystems Ghana